What are CUPRO NICKEL BOLTS?
Cupro nickel bolts are made from an alloy composed of copper (Cu) and nickel (Ni). The alloys used for cupro-nickel bolts can range from 28% to 90% copper and 10% to 72% nickel, depending on the type of bolt being manufactured. The addition of other elements, such as carbon or manganese, can further enhance the properties of cupro-nickel alloys. Cupronickel Bolts come in a variety of shapes and sizes; they can be round head screws or hex head cap screws with countersunk heads.
Cupronickel Heavy Hex Bolts have become popular due to their high strength and corrosion resistance properties. COPPER - NICKEL Hex bolts are commonly used in applications where extreme heat or cold is experienced, as well as for use on ships that spend long periods at sea or in salty water environments. Their corrosion resistance makes them ideal for use on rail cars that must often traverse bridges over rivers or oceans with salt water exposure. Cupronickel Square Bolts are also used extensively in the automotive industry due to their ability to withstand extreme temperatures when exposed to hot exhaust gasses. Additionally, they are becoming increasingly popular amongst aircraft engineers because they do not corrode when exposed to jet fuel fumes which is essential when constructing aircrafts. Several types of Hastelloy Fasteners are available like Hastelloy C22 Nuts, Hastelloy C22 Washers, etc.
DIN, ASTM, BS Bolts, Stainless Steel hex bolts, Duplex & Super Duplex Steel heavy hex bolt, Stainless Steel Hex Bolts, Hex Bolts, Stud Bolts, Anchor Bolts, Bolt Fasteners manufacturers, Bolt Dealers, Alloy Steel hex cap screw, Bolts Manufacturer & Stockist
The main benefit of using cupro-nickel bolts is that they provide superior strength without sacrificing ductility and resistance against corrosion when compared with other types of fasteners, such as steel or brass bolts. This makes them perfect for use in many different industries where frequent exposure to harsh chemicals or temperatures may occur, such as in marine applications or aerospace engineering projects. We also manufacture other products such as Monel 400 Nuts, Monel 400 Washers, etc.
Additionally, cupro-nickel bolts offer a cost-effective solution due to the fact that they can often last longer than traditional steel fasteners since they do not corrode easily when exposed to certain elements like saltwater exposure or jet fuel fumes. Furthermore their non-magnetic qualities make them perfect for use around electrical systems where magnetic fields must be avoided at all cost; otherwise risk interference with sensitive components within the system itself.
BRONZE HEX BOLT
HEAVY HEX BOLT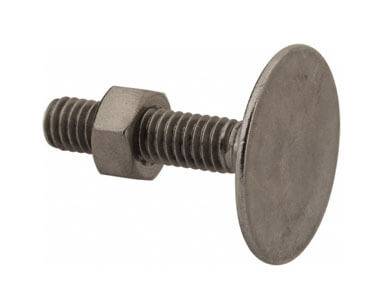 ELEVATOR BOLT
There are several varieties of cupro-nickel bolts available on the market, each designed to meet specific requirements depending on the application it is being used for; some examples include semi-tubular rivets, which offer superior tensile strength along with great flexibility, making them ideal for construction applications; countersunk screws which provide an aesthetically pleasing finish while still offering excellent mechanical performance; hexagon shaped nuts which offer great stability when bolting two parts together; flathead screws – these have been designed specifically so that you can drive them into the wood without damaging it while still providing great tensile strength; dome-head screws – these have a unique shape allowing them to be driven flush into whatever material you need it secured too without having any protruding edges; finally, carriage style nuts which offer an excellent impact.
What are bolts used for?
Bolts are a fastener used to join two or more objects together. They are commonly used in construction, manufacturing, and engineering applications to create solid and secure connections that can withstand various forces and stresses. Bolts typically consist of a threaded shaft and a head that can be tightened with a wrench or other tool. They are available in various sizes and materials and can be customized for specific applications. Some common uses for bolts include securing structural components in buildings and bridges, attaching machinery to floors or foundations & holding automotive and aerospace components together.
Which bolt is commonly used?
Hex bolts are the most commonly used type of bolt. They have a hexagonal head and a threaded shaft and are tightened with a wrench or socket. Hex bolts are available in various sizes and materials and can be used for multiple applications. They are commonly used in construction, automotive & manufacturing industries and in household & DIY projects. Hex bolts offer a strong and secure connection that can withstand high forces & stresses, making them a reliable choice for many applications.
Which bolt is the strongest?
The strongest bolt is high-strength or structural, designed to withstand extremely high loads and stresses. These bolts are typically made from carbon steel or alloy steel and are heat-treated to increase their strength and durability. High-strength bolts are used in critical applications where failure could result in severe injury or damage, such as bridges, buildings, and heavy machinery. They are available in various types, such as hex bolts, carriage bolts, and anchor bolts & can be customized to meet specific requirements.
Nickel Alloy hex screw, Titanium Gr.2 socket cap screw, Hastelloy B3 countersunk slotted screw, Mushroom Head Square Neck Bolts, Screw Supplier & Exporter
Standard

Length

Size

Type


DIN, ASTM, BS and all International Standards

 

M3 - M56 | 3/6" to 2" | Custom Sizes

Bolts, Stud Bolts, Hex Head Bolts, Socket Hexagon Head Screw Anchor Bolt, U- Bolts, J Bolts, Mushroom Head Square Neck Bolts, T-Head Bolts, Eye Bolt, Foundation Bolts, Structural Bolts.
Other Types Of Bolts
Stainless Steel Bolts :
AISI 302, 304, 304L,316, 316L, 310, 317, 317L, 321, 347, 410, 420,904L etc.
Duplex & Super Duplex Steel Bolts :
ASTM / ASME A815 UNS No. S31803, UNS No. S 32205, UNS No. S 31254, UNS No. S 31550, UNS No. S 32750, and UNS No. S 32760
Carbon Steel Bolts :
ASTM A307, A193
Alloy Steel Bolts :
ASTM / ASME A/SA 193 / 194 B 6, B 7/ B 7M, B 16, 2, 2HM, 2H, GR 6, B 7, B 7M
Nickel Alloy Bolts :
ASTM / ASME SB 160 / 164 / 425 / 166 / 446 / 574 / 472 UNS 2200 (NICKEL 200) / UNS 2201 (NICKEL 201), UNS 4400 (MONEL 400), UNS 8825 (INCONEL 825), UNS 6600 (INCONEL 600) / UNS 6601 (INCONEL 601), UNS 6625 (INCONEL 625), UNS 10276 (HASTELLOY C 276), UNS 8020 (ALLOY 20 / 20 CB 3)
Silicon Bronze Bolt :
UNS NO. C65100 / C65500 / C65600 , Silicon Bronze hex cap screw , Silicon Bronze allen cap screw , Silicon Bronze Machine screw , Silicon Bronze Square Bolt , Silicon Bronze Hex Bolt , ASTM C65100 (Silicon Bronze heavy hex bolt)
Aluminium Bronze Bolt:
ASTM B 111 C60800/ASME SB 111 C 60800 /EN 12451 CuAL5AS / CW200 / C61400 / C95400 / C61800 / C62300 / C62400 / C62500 / C95200 / C95900 / CuAL11Ni5Fe5,Aluminium Bronze hex cap screw, Aluminium Bronze allen cap screw, Aluminium Bronze Machine screw, Aluminium Bronze Square Bolt , Aluminium Bronze Hex Bolt , UNS C63200 / C63000 (Aluminium Bronze heavy hex bolt).
Phosphorus Bronze Bolt:
Phosphorous Bronze hex cap screw, Phosphorous Bronze allen cap screw , Phosphorous Bronze Machine screw, Phosphorous Bronze Square Bolt , Phosphorous Bronze Hex Bolt , ASTM C54400 (Phosphorous Bronze heavy hex bolt).
We are Exporter of Bolt in Worldwide Such as India, Italy, Turkey, Bolivia, Saudi Arabia, Chile, Taiwan, Croatia, Serbia, Greece, Thailand, Afghanistan, Brazil, South Korea, Angola, Canada, France, Gabon, Mexico, Ecuador, Namibia, United States, Pakistan, Kazakhstan, Bahrain, Hungary, Argentina, Estonia, Germany, Gambia, Azerbaijan, South Africa, Qatar, Netherlands, Morocco, Philippines, Iraq, Venezuela, Kenya, Japan, Ireland, Puerto Rico, Belarus, Spain, Mongolia, Peru, Macau, Bhutan, Iran, Oman, Bangladesh, Jordan, Hong Kong, Trinidad & Tobago,Tunisia, Australia, Costa Rica, New Zealand, India, Belgium, Ukraine, Sweden, Malaysia, Austria, United Arab Emirates, Slovakia, Lithuania, Romania, Denmark, Ghana, United Kingdom, Egypt, Russia, Switzerland, Singapore, Zimbabwe, Mexico, Czech Republic, Nigeria, Iran, Lebanon, Libya, Yemen, Tibet, Kuwait, Chile, Sri Lanka, Portugal, Israel, Indonesia, Colombia, Nepal, Poland, Finland, Norway, Bulgaria, Poland, Nigeria, Algeria, China, Vietnam.
We are Suppliers of Bolts in India Such as Mumbai, Kuwait City, Pimpri-Chinchwad, Bengaluru, Hong Kong, Abu Dhabi, Mexico City, Cairo, Riyadh, Chiyoda, Gurgaon, Kolkata, Ernakulam, Indore, Los Angeles, Dallas, Vadodara, Baroda, Houston, Navi Mumbai, Milan, Faridabad, Bhopal, Port-of-Spain, Rio de Janeiro, Ulsan, Gimhae-si, Manama, Moscow, Jakarta, Ranchi, Chandigarh, Ahmedabad, Aberdeen, Lagos, Brisbane, Tehran, Ludhiana, Mumbai, La Victoria, Rajkot, Noida, Seoul, Chennai, Montreal, Ahvaz, Kuala Lumpur, Singapore, Kanpur, Sydney, Perth, Edmonton, Al Jubail, Hyderabad, Bogota, Haryana, Coimbatore, Karachi, Dubai, Granada, Thane, Pune, Geoje-si, Hanoi, Jeddah, Nashik, Al Khobar, Vung Tau, Bangkok, Nagpur, Muscat, Caracas, Istanbul, Lahore, Visakhapatnam, Jamshedpur, Toronto, Surat, Madrid, Atyrau, Calgary, Howrah, Dammam, Melbourne, Algiers, Secunderabad, Colombo, Busan, Doha, Santiago, Courbevoie, Petaling Jaya, Sharjah, New York, New Delhi, Ho Chi Minh City, Ankara, London, Jaipur, Thiruvananthapuram.